Welcome!
Whether you are familiar with my work—or if this is your first visit to the site—I'd like to personally welcome you. For those of you who are new to the site, allow me to introduce myself! I am the author of several books that range from the experience of grief and loss to some of my other areas of interest: the origins of the biblical Satan, women in the bible and biblical literacy!
In addition to writing, I am a university professor with over two decades of teaching experience and it has been my privilege to accompany my students as they explore the most influential and foundational texts informing Western civilization, as well as exploring some of the most fundamental questions of our human condition. Thank you for visiting; you are very welcome here.
The Books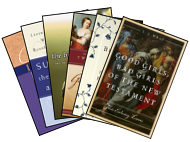 Host TJ Wray
To arrange to have T.J. Wray speak to your group or to conduct a workshop, please contact her here.